As per Govt order all Aadhaar card holders who have PAN card must link PAN card with Aadhaar card before July 1st 2017 and need to mention it on your tax returns. Income tax department opened a simple portal for Linking Aadhaar card online for PAN card holders.
In this post we are sharing the step by step instruction with screen shoots for linking PAN with Aadhaar card simply. Online and by SMS.
Before Linking Aadhar card with PAN card, make sure your Aadhar details will be same like Name, Date of Birth, and Gender otherwise you may face some difficulties.
If you don't have an Aadhaar card yo don't need to link it with PAN card.
Simple Steps To Link PAN With Aadhaar Card
Step 1: Online
Go to
https://incometaxindiaefiling.gov.in/e-Filing/Services/LinkAadhaarHome.html
Fill the form carefully and click on Link Aadhaar button
If your Aadhaar details match with PAN card a Successful Message will be appear like this "Aadhaar-PAN linking is completed successfully." That's it!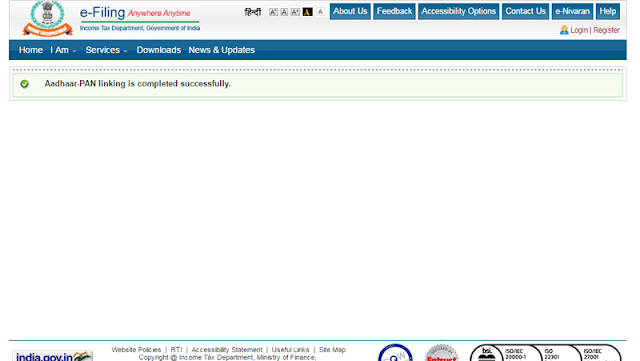 Step 2: Via SMS
Just Send
UIDPAN<SPACE><12 digit Aadhaar ><Space><10 digit PAN>
to
567678
or
56161
Example: UIDPAN 123456789012 ABCDE1234F