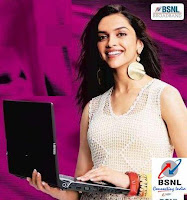 Bharat Sanchar Nigham Limited (BSNl) is the NO: 1 and widely using broadband internet connection provider in India. BSNL data line provides a full range of high speed data services to the Home and Business customers.
It offers Unlimited and Limited internet plans at attractive price range. It's unlimited plans like ULD 525, ULD 650, ULD 800, ULD 950, ULD 900, etc. features high speed data without any limit and affordable price tag. BSNL features these unlimited internet plans with high speed access from 512Kbps – 4Mbps speed according to the selected plan of user.
Here you can find and choose unlimited BSNL internet plans affordable for you.
BSNL Unlimited Internet Home Plans

Plan

Speed

Monthly Subscription

(RS)

Tax Extra

Annual

Subscription

(RS)

Tax Extra

2 Year

Subscription

(RS)

Tax Extra

3 Year

Subscription

(RS)

Tax Extra

ULD 525

512 Kbps up to 4 GB, 256 Kbps beyond 4 GB

525

5775

11025

15750

ULD 650

512 Kbps up to 4 GB, 256 Kbps beyond 4 GB

650

7150

13650

19500

ULD 800

Up to 1 Mbps till 6 GB, 512 Kbps beyond 6 GB

800

8800

16800

24000

ULD 950

Up to 4 Mbps till 8 GB, 512 Kbps beyond 8 GB

950

10450

19950

28500
BSNL Unlimited Internet Home / Business Plans

Plan

Speed

Monthly Subscription

(RS)

Annual

Subscription

(RS)

2 Year

Subscription

(RS)

3 Year

Subscription

(RS)

ULD 900

Up to 2 Mbps till 8GB, 512 Kbps beyond 8 GB

900

9900

18900

27000

ULD 1425

Up to 4 Mbps till 20GB, 512 Kbps beyond 20GB

1425

15675

29925

42750

ULD 1800

Up to 2 Mbps till 40GB, 256 Kbps beyond 40GB

1800

19800

37800

54000

ULD 2250

Up to 1 Mbps till 100GB, 256 Kbps beyond 100GB

2250

24750

47250

67500

ULD 3500

Up to 2 Mbps till 150 GB, 512 Kbps beyond 150 GB

3500

38500

73500

105000

ULD 6300

Up to 4 Mbps till 200 GB, Up to 1 Mbps beyond 200GB

6300

69300

132300

189000