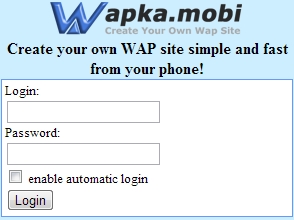 Logo maker tool help your website users to design new text logos. With this tool user can edit font size, font colour, font style, font background colour and simply download His/hers text logo by click on Download button. To embed logo maker on your wapka web site.
>> Go to ::Edit site::
>> Select WML/XHTML code
Past below link on text area and click on submit button.
After complete this steps the Logo Maker tool appear on your website.
---
---
---
More codes:
LIVE CRICKET SCORE BOARD , WAPKA FREE TOOLS , CALL ME CODE ,
Wapka Drop Down Menu Code
---
Get Free +200 MB on WAPKA File Manager